Wed., Feb. 15, 2012, 5:18 p.m.
Santorum Lands 2 On Floating Green
Prior to taking shots at President Obama and Mitt Romney at a campaign rally in Coeur d'Alene Tuesday, GOP presidential hopeful Rick Santorum took by far his most impressive shots on an adjacent golf course. Before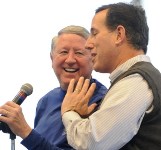 speaking at a rally at the Hagadone Events Center at the Coeur d'Alene Resort, Santorum showed his golfing prowess (or incredible luck) by allegedly landing two tee shots squarely on the resort's famed 'Floating Green' from 270 yards away. Twice. It's a feat that would be considered extremely difficult even for professional golfers. During the summer the green is stationed between 140-160 yards away from the regular men's tee box, but in the off-season when the water level of Lake Coeur d'Alene is lowered, the resort slides the Floating Green (on underwater tracks) another 120+ yards away from the tee box. Several staffers with the resort were on hand to witness Santorum's eye-opening golf shots/KHQ. More here. (Jess Tinsley SR photo of Hagadone Hospitality partner Jerry Jaeger kidding Rick Santorum re: his golf shots on resort Floating Green Tuesday)
Question: Is JimmyMac only Merry Huckster rich enough to afford to play on the Coeur d'Alene Resort Golf Course? How did you do on the hole with the floating green?
---
---