Thu., Feb. 16, 2012, 8:54 a.m.
Call Doc Otter, Old California Mare Ill
California Gov. Jerry Brown has a lot on his plate. His budget is in crisis.The housing crunch hit California hard. Unemployment is in the double-digits. Call in Doc Otter. Speaking to the Idaho Credit Union League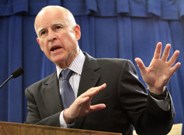 Government Affairs Conference at Boise earlier this month, Idaho Gov. C.L. (Butch) Otter volunteered that a California lawmaker marveled at Idaho's balanced budget. What advice would Otter offer, this lawmaker asked. "And I said, 'Listen, I was born in a family of nine kids in Caldwell, Idaho, and I have lived on farms and ranches and raised horses all my life,' " Otter said. "And I would tell you without any equivocation whatsoever, that if California were my horse, I would shoot it. ... I would put it down. Obviously easier said than done' "/Marty Trillhaase, Lewiston Tribune. More here. (AP file photo)
Question: If Idaho was a horse, what would you do with it?
---
---