Thu., Feb. 16, 2012, 8:23 a.m.
CdA Mulls 5A Cherry Hill Land Buy
The city of Coeur d'Alene is considering purchasing nearly 5 acres of land east of Cherry Hill Park that could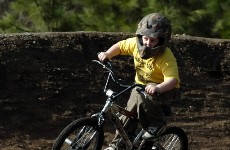 play home to a baseball complex to replace the possibly-displaced American Legion baseball diamond at McEuen Field. The city's General Services Committee this week forwarded a recommendation that the City Council pay for the $440,000, 4.8-acre parcel on 15th Street in one lump sum payment to the Coeur d'Alene Eagles, rather than in annual installments. But Councilman Steve Adams, a GSC member who made the recommendation to City Council, is unsure if he'll vote for the land purchase in the end. "If we can't pay for it all at once out of the (parks) capital improvement fund, in hindsight, I may have to vote no," Adams said/Tom Hasslinger, Coeur d'Alene Press. More here. (Jesse Tinsley SR file photo of 8YO on BMX track at Cherry Hill)
Question: Would Cherry Hill be a good place to move the American Legion Baseball diamond that is now at McEuen Field?
---
---