Fri., Feb. 17, 2012, 1:12 p.m.
IFF: Tanning Bill Is Govt Overreach
If Little Sally draws a picture of Stick Child, Stick Mommy and Stick Daddy under a Crayola Unmellow Yellow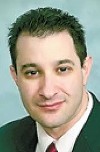 sun, will teachers be instructed to probe for more information, to make sure that the family wore SPF 30? Increasingly, the government assumes that parents aren't smart enough to make proper decisions for their children. The government increasingly assumes the role of parent and, increasingly, that role is accepted as normal. It's not. ... In Idaho, state lawmakers are debating a bill that would ban minors from using tanning beds. On Thursday, the House Health and Welfare Committee heard from a steady stream of dermatologists, school teachers and other do-gooders who believe the government should ban youngsters from using a tanning bed/Wayne Hoffman, Idaho Freedom Foundation. More here.
Question: Can you give small examples of what you consider to be "nanny government"?
---
---