Fri., Feb. 17, 2012, 5:42 p.m.
Mardi Gras, Anyone?
Mardi Gras. It brings to mind beads, parties and fancy floats in New Orleans as people cram in all the fun they can before Lent begins. In reality, Mardi Gras has long been celebrated in coastal towns from Texas to Florida.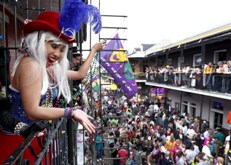 And it means big business. "It is more of a regional thing, Mardi Gras is, from Texas down to (the) Gasparilla (pirate festival) down in the Tampa area," said Stephen Toomey, whose family started a chain of Mobile, Ala.-based Mardi Gras party supply stores. "It means a way of life for people who live in these communities, but the bottom line is that it creates a lot of jobs." Tourism leaders estimate more than 1 million visitors pour into the Mobile area each Mardi Gras season to watch the festivities/Associated Press. More here. (AP photo: Malia Miyashiro, of California, throws beads from a Bourbon St. balcony to Mardi Gras revelers in French Quarter in New Orleans earlier today)
Question: Do you participate in Mardi Gras activities closer to home? And/or: Do you observe Lent?
---
---