Mon., Feb. 20, 2012, 9:20 a.m.
Conservative Mag Spotlights Labrador
Rep. Raul Labrador (R-Idaho), less than two years in office, quickly made a national mark by shining a bright light on the deeply troubling case of Operation Fast and Furious, the gun-running scandal that led to the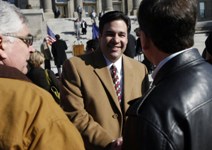 murder of Border Agent Brian Terry in Arizona in December 2009. The lawyer from Eagle, Idaho, who has called for the resignation of U.S. Attorney General Eric Holder, has a message for the moderators at the Feb. 22 debate: Address the scandal and start a national discussion about the issue. "I would ask [the presidential candidates] what would they do to remedy the damage of 'Fast and Furious' and regain the confidence of the American people," Labrador said in an interview with HUMAN EVENTS/Tony Lee, Human Events. More here. (Joe Jaszewski AP/Statesman file photo: Raul Labrador greets supporters on the Idaho Statehouse steps before announcing his campaign re-election last Monday)
Question: Why do you suppose that Republican presidential candidates have addresses the Fast & Furious controversy involving Attorney General Eric Holder only once in their 18 debates?
---
---