Mon., Feb. 20, 2012, 8:19 a.m.
Hucks: Golfing With Santorum
Jimmy McAndrew, who caddied at the Coeur d'Alene Resort golf course before becoming a Coeur d'Alene banker, is skeptical about Rick Santorum's golf prowess. According to eyewitnesses Tuesday, the Republican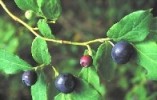 prez wannabe landed two golfballs on the floating green, at its winter distance. Doubting Jimmy told Huckleberries: "We are talking 270 yard (on the fly) in 30-40 degree weather over the lake which is always gusting heavily every day and always requires you to club up one minimum (usually two clubs up). Just look at the flag out there, it's rarely blowing toward the lake." And even if Santorum hit the green, he'd be lucky to keep the ball on it, says Jimmy. Who estimates the floating green is 30 yards deep. Tops. In the winter, Jimmy said, the surface would be as hard as an airport tarmac. "Hit the green? Maybe," says Jimmy. "Held it?" Hmm/DFO, Sunday Huckleberries. More here.
Question: Do you brag about your golf game?
---
---