Mon., Feb. 20, 2012, 9:51 a.m.
Idaho Becomes GOPrez Race Player
Patrick Teems completed a political odyssey Saturday. The Boise pilot last week got to attend political rallies for three of the top contenders for the Republican presidential nomination ahead of Idaho's March 6 GOP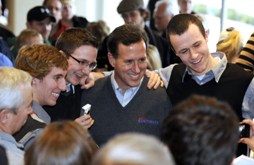 caucus. Teems came into the week leaning toward Mitt Romney, but seeing the other two made him reconsider. Ron Paul's libertarian message Saturday resonated with him. And he liked Rick Santorum's electrifying speech Tuesday at Capital High — and Santorum's willingness to stay afterward to have his picture taken with people such as Teems' teenage son, Max. Republican Congressman Raul Labrador would have loved to see all three, too, but he was in Washington, D.C., until Saturday and was able to attend only Paul's rally. He's not endorsing any candidate/Dan Popkey & Rocky Barker, Idaho Statesman. More here. (SR file photo: Santorum with Coeur d'Alene High students (from left) Adam Borsheim, Derek Scharf and Ty Higbie)
Question: Did the visit of three of the top four GOP presidential candidates last week boost Idaho's status on the national Republican scene?
---
---