Tue., Feb. 21, 2012, 8:20 a.m.
'Downton Abbey' Withdrawal
Paul Turner of The Slice shares this from a reader: "With the end of Season 2 of the popular 'Downton Abbey'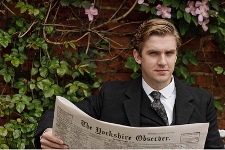 series on PBS this weekend, a co-worker of mine (at WSU Riverpoint) was heard to say that she was 'Not addicted, Don't care, Could stop watching it anytime.' "A few minutes later she was seen asking some of the nursing faculty if anyone could provide a prescription for 'Downtonadone' until Season 3 next January. "She wasn't able to get one, but was offered access to Season 1 on CDs, to help her withdraw more gradually. Nurses are kind like that." More here.
Question: If you know this phrase is all about, I'm afraid you're going through "Downton Abbey" withdrawal today: "It was lust, Matthew." Are you in withdrawal or denial?
---
---