Tue., Feb. 21, 2012, 11:55 a.m.
Newt To Hold CdA Townhall Meeting
GOP presidential candidate Newt Gingrich will hold a town hall meeting in Coeur d'Alene on Thursday night,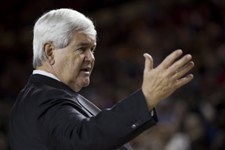 the Idaho Republican Party announced today. The venue is still being nailed down, but Idaho GOP executive director Jonathan Parker said the meeting will begin at 7 or 7:30 p.m. The former speaker of the U.S. House also will hold a private fundraiser at a Harrison home on Thursday afternoon at 4 p.m., Parker said. Gingrich's visit marks the fourth major GOP presidential candidate to campaign in Idaho in less than two weeks/Betsy Russell, Eye On Boise. More here. (AP photo of Newt Gingrich at Oral Roberts University in Tulsa, Okla., Monday)
Question: Would you pay $1000 for the chance of a one-on-one conversation with Newt Gingrich?
---
---