Wed., Feb. 22, 2012, 4:28 p.m.
Now Illegal To Moon Someone In CdA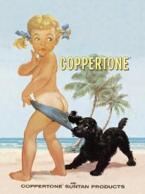 The Coeur d'Alene City Council agreed Tuesday to close a legal loophole that made it difficult to prosecute those who expose themselves indecently. The city adopted an amendment to its obscene conduct law that specifically includes indecent exposure for offenders who drop trou to annoy or offend people, rather than those who do so with lewd intent. It passed 5-1. Councilman Dan Gookin opposed the amendment because the city's disturbing the peace ordinance already addresses the issue, he said/Coeur d'Alene Press. More here. (Wikipedia photo of old Coppertone advertisement)
Question: Do you support this move?
---
---