Wed., Feb. 22, 2012, 5:24 p.m.
Druggists Don't Have To Sell Plan B
Washington state cannot force pharmacies to sell Plan B or other emergency contraceptives, a federal judge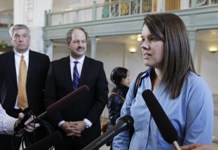 ruled Wednesday, saying the state's true goal was to suppress religious objections by druggists — not to promote timely access to the medicines for people who need them. U.S. District Judge Ronald Leighton heard closing arguments earlier this month in a lawsuit that claimed state rules violate the constitutional rights of pharmacists by requiring them to dispense such medicine. The state requires pharmacies to dispense any medication for which there is a community need and to stock a representative assortment of drugs needed by their patients/Associated Press. More here. (AP photo of pharmacist Rhonda Mesler, talks to reporters)
Question: Do you agree/disagree with this decision?
---
---