Thu., Feb. 23, 2012, 12:59 p.m.
DM: Senate Leaders Betrayed Idaho
Larry Grant, Chairman of the Idaho Democratic Party, is often quoted about his disgust with the "culture" of the GOP controlled Idaho State Senate. His comments seem to often link it with the word "corruption" or some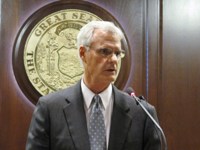 other perjorative word; though his recent quotes have not seemed to link those two words, anymore. Maybe Larry Grant's more correct than many of us gave him credit for. Not that the Idaho State Senate GOP Leadership is "corrupt" - as I have witnessed nothing that reflects an out-and-out ignoring of Idaho's laws...pending the Attorney General's report on Mr. McGee's actions, as an individual. However, the press reports on this event have NOW appeared throughout the US, today. Amercia sees Idaho once again as a laughing-stock, back-mountain wild west show/Dennis Mansfield. More here. (AP photo: Senate Pro Tem Brent Hill announcing John McGee's resignation Wednesday)
Question: Is McGee the first domino to fall in a legislative culture in Idaho that has for too long enabled misbehavers and scofflaws to continue to operate as though nothing has happened?
---
---