Thu., Feb. 23, 2012, 4:37 p.m.
Harwood To Quit After 6 Terms
Six-term Idaho Rep. Dick Harwood, R-St. Maries, has decided to end his 12-year legislative career after this year. "I'm not going to run," Harwood said Thursday. "My wife's family's not doing well. … She needs me to be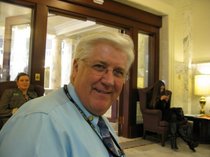 there." After 12 years in the Legislature, Harwood says he's most proud of his work to push back against the federal government, including his failed bill this year to kick the EPA out of Idaho. "My whole goal has been to push back from the federal government," Harwood said. "Just having someone here to try to push back and say, 'Hey, we have sovereignty as a state,' and try to keep the federal government from running over the top of us. That's been my goal." He said his only regret is that he wasn't able to do more on that score/Betsy Russell, Eye On Boise. More here.
Question: Did Dick Harwood have an impact on the Idaho Legislature?
---
---