Rick Santorum has seen Idaho at 35,000 feet. He knows Idaho is a conservative bastion. He reads about a place seething with resentment toward federal agencies restoring wolves to the wild and choking off logging.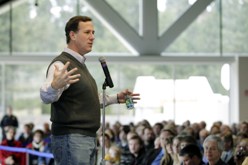 He hears the antipathy toward Washington, D.C., that Gov. C.L. (Butch) Otter regularly expresses. From these factoids, Santorum has concluded Idahoans are ready to throw off the yoke of their federal landlord. The federal government owns about 33.7 million acres of forests and rangeland, about two-thirds of the state. By stoking the fires of the Sagebrush Rebellion, Santorum believes he can peel off a sizeable number of votes in the March 6 Idaho Republican presidential caucus.So Santorum parachuted into Boise last week and promptly said: "We need to get it back into the hands of the states and even to the private sector. … And we can make money doing it." Now why didn't somebody think of that before? Fact is, they have. Idahoans have spent a lot of time thinking about this/Marty Trillhaase, Lewiston Tribune. More here. (AP file photo of Santorum visiting Coeur d'Alene earlier this month)
Question: What do you think about Santorum's idea, espoused during his trip to Idaho, to sell off federal land to states and private individuals?