Thu., Feb. 23, 2012, 1:34 p.m.
Wine Cellar Moving Next Door
The owners of The Wine Cellar, a staple of the downtown scene for over 20 years, are thrilled to announce that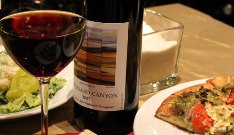 the restaurant will be moving street side this summer. Tom & Patricia Power have acquired the building located at 317 Sherman Avenue, directly next door to the Wine Cellar and will be relocating the restaurant to that space. The Wine Cellar restaurant in its current location will remain open for business during this transition. The building at 317 Sherman has been a number of businesses over the years, from a department store, furniture store, The Brix restaurant in 2003 and most recently the Icon nightclub/News Release. More here. (Photo from Wine Cellar Web page)
Question: Are you a fan of the Wine Cellar?
---
---