Thu., Feb. 23, 2012, 8:50 a.m.
Wolf Kill Bill Could Backfire On Idaho
Idaho Congressman Mike Simpson, who authored the federal legislation that removed Idaho wolves from protection under the Endangered Species Act, is worried that a wolf-kill bill approved by a Senate committee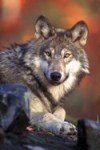 yesterday goes beyond the wolf management plan Idaho approved in 2002 - and could give a federal judge a reason to return Idaho wolves to the endangered list, the Idaho Statesman reports today. The measure, sponsored by Sen. Jeff Siddoway, R-Terreton, a sheep rancher, would let let livestock owners whose animals are molested by wolves shoot the wolves from motorized vehicles, powered parachutes, helicopters or fixed-wing planes, by night or day, using rifles, pistols, shotguns, or crossbows, night scopes, electronic calls, and traps with live bait/Betsy Russell, Eye On Boise. More here.
Question: Would the Idaho Legislature be wise to deep-six attempts to kill more wolves?
---
---