Fri., Feb. 24, 2012, 3:14 p.m.
Brannon Manager Wants Nonini Seat
Home builder and Republican activist Jeff Tyler will file Monday for election to Idaho House of Representatives Seat A, a district containing Post Falls, Rathdrum and southeast Kootenai County. Tyler, in his first run for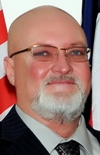 public office, will seek a two-year term to the seat currently held by Rep. Bob Nonini, who announced he is running for the Senate. Tyler, 52, is a long-time Republican and conservative activist as a founder and 1st Vice President of the Kootenai County Reagan Republicans and a founder of the Panhandle Pachyderm Club. In 2009 Tyler became well known as the campaign manager for Republican Jim Brannon in his campaign against Democrat Mike Kennedy for the Coeur d'Alene City Council. A resident of Kootenai County since 1994, Tyler lives with his wife of 25 years, Pam, on Harbor Island. Jeff and Pam have 2 grown sons, Kenny and Keith/News Release. More here.
Thoughts?
---
---