Fri., Feb. 24, 2012, 1 p.m.
CPD: No Child Missing From School
Update: Coeur d'Alene Police have worked with SD271 personnel in all of the surrounding schools and have determined no children are currently missing from school. Local private schools and nearby daycares have also been contacted and have not reported any missing children
Coeur d'Alene police are looking for an 8- or 9-year-old boy who may have been abducted by a man in a white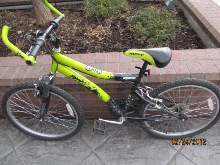 van in Coeur d'Alene Place this morning. A 25-year-old Coeur d'Alene woman driving her child to school saw the boy get into the dirty van, leaving his mountain bike in the area of Hanley & Courcelles. The woman described the van as a full-size cargo van with ladder rack. The child is described as 8 to 9 years old, 4-foot-1, wearing blue jeans, a yellow, green, and black neoprene jacket and dark shoes. His mountain bike is described as a green-and-black Huffy/Alpine 18-speed with black-and-green seat, black pedals, and front suspension. Police are working with Coeur d'Alene School District personnel to decide if any children failed to arrive at school this morning. CPD news release here.
---
---