Fri., Feb. 24, 2012, 8:22 a.m.
Gingrich: Karzai Owes Us An Apology
GOP presidential candidate Newt Gingrich said Thursday a U.S. apology to Afghan authorities for burned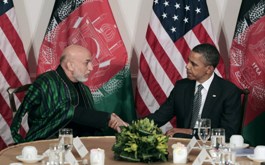 Qurans on a military base was "astonishing" and undeserved. President Barack Obama formally apologized Thursday after copies of the Muslim holy book were found in the week burned in a garbage pit on a U.S. air field earlier. Later Thursday, news organizations reported that an Afghan soldier had killed two U.S. troops and wounded others in retaliation for the burning. Campaigning in Washington state, Gingrich said Afghan President Hamid Karzai owes the U.S. an apology for the shootings/Associated Press. More here. (AP photo of Hamid Karzai and Barack Obama in New York last Sept. 20)
Question: Gingrich goes on to say: "There seems to be nothing that radical Islamists can do to get Barack Obama's attention in a negative way." Do you agree with Gingrich?
---
---