Fri., Feb. 24, 2012, 3:44 p.m.
Newt, Mark Fisher Work CdA Crowd
Mark Fisher (left in red tie), who introduced Callista Gingrich at the Coeur d'Alene rally, works the rope line with Newt Gingrich at the Coeur d'Alene Inn. For those of you keeping score at home, Fisher has announced that he will run against state Rep. Vito Barbieri in the spring GOP primary election. (Special to HucksOnline)
A lot of show biz has crossed the stage at the Bing, and Thursday was no different. Fans stood in line more than an hour before showtime. Some held signs or dressed up. A tour bus lurked outside, and police rerouted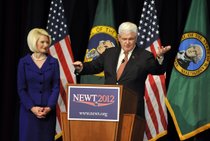 traffic. When the doors opened, people flooded in, filling the ground floor immediately and then streaming up to the balcony. The crowd buzzed and rustled, in the full flower of Spokane diversity: every kind of white. Bald old graybeards dominated, but there were plenty of teenagers, families with children in tow, people dressed in athletic spandex and backwoods flannel, blue jeans and T-shirts and ball caps. One of Spokane's better qualities – our pronounced lack of suits and ties – shone through. One man standing near the back refused an offer of a seat. "I'm too excited to sit," he said/Shawn Vestal, SR. More here. (SR photo)
Question: Any of you commenters/bloggers/blurkers out there attend the Gingrich rally? Impressions?
---
---