Mon., Feb. 27, 2012, 8:23 a.m.
Huckleberries: A Young Ron Paul Fan
You know your 3-year-old daughter is as cute as you think she is when she's photographed by two members of different media at the recent Ron Paul confab. Nicole Hensley of KXLY snapped Lajla Handeen near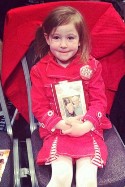 glad-handing Ron Paul. Jesse Tinsley of The Spokesman-Review photographed her peeking through a curtain. She was in Spokane with her father, Bjorn Handeen, Precinct 52 committeeman for the Kootenai County GOP Committee. Bjorn tells of Lajla's close encounter with Paul: "When Ron Paul shook her hand, he asked if she knew his name. She smiled, nodded, and said 'Ron Paul!' He got a big kick out of that. She was beaming that whole weekend. She's not even 4, but I have the feeling that she'll remember that exchange for a long time." Bjorn packs Lajla to political events. She behaves well, he told Huckleberries: "If she can sit through a (Kootenai County Republican Central Committee) meeting, a Ron Paul speech is easy"/DFO, HucksOnline. More here. (Anthony Terrell of NBC News shot a third photo of Lajla Handeen at the Ron Paul Rally)
Question: Do/did you take your children to political events?
---
---