Mon., Feb. 27, 2012, 9:06 a.m.
Idaho Paper Backs Mitt, Slams Others
We believe that Mitt Romney is the best choice for Idaho, the best choice for Republicans, and the best option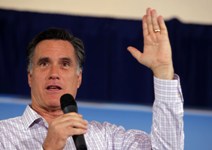 in bringing conservatism back to the White House in the person of the 45th President of the United States. He has listed creating jobs and restoring American competitiveness as his highest priorities, and although implementing those priorities is way easier said than done, at least he has the priorities right. And despite his bungled statements about both the "very rich" and the "very poor," his clarifying remark — "My energy is going to be devoted to helping middle-income people" — is exactly where the next president's energy ought to be focused/Twin Falls Times-News Editorial Board. More here. (AP photo of Mitt Romney in Traverse City, Mich., Sunday)
Question: Do you agree with the choice of the Twin Falls Times-News for the GOP presidential nomination?
---
---