Tue., Feb. 28, 2012, 9:20 a.m.
City Eyes Downtown CdA Behavior
The city of Coeur d'Alene wants to add some rules to its outdoor food and alcohol serving policy to help clean up behavior around bars and restaurants with seating on public sidewalks. The changes would clarify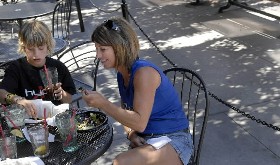 expectations for businesses that serve outdoors thanks to the city's food and alcohol outdoor service policy, which has been changed several times the last three years. "It's a balancing act," said Mike Kennedy, councilman, on attempting to clean up late-night behavior outside establishments that serve alcohol, versus coming down too heavy handed on businesses. "And it's not an easy one." The proposed additions would require businesses that have the outdoor permits to play a more active role in policing unacceptable behavior in their own designated areas/Tom Hasslinger, Coeur d'Alene Press. More here. (SR file photo of a mother & her son dining outside the Beacon)
Question: Do you enjoy dining or drinking outside restaurants or bars in downtown Coeur d'Alene?
---
---