Tue., Feb. 28, 2012, 8:55 a.m.
Kid Rock Plays For Romney Rally
Presidential hopeful Mitt Romney ended his final sweep through Michigan thanking supporters at a rally that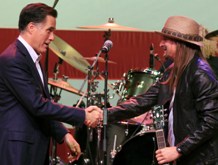 included a live rendition of his campaign theme song performed by rocker/rapper Kid Rock. Romney, who introduced Rock as "a friend" and "a guy that makes great music," said Rock agreed to perform after discussing what Romney would do for Michigan as president. "He had a piece of paper and had written down some questions for me," Romney said at the rally Monday night at the Royal Oak Music Theater. "He said, 'Mitt, if you are elected president will you help me help the state of Michigan?' I said I would." Romney said he then asked Rock -- a Michigan native like the Republican candidate -- to play a concert for his supporters/USA Today. More here. (AP photo of Mitt Romney meeting Kid Rock)
Via Twitter, Hmaboi: "Kid Rock endorsed Romney? Jon Bon Jovi is doing Advil ads? Am I in some sort of alternate universe?"
Question: Are you surprised that Kid Rock would play for a Romney rally?
---
---