Tue., Feb. 28, 2012, 5:14 p.m.
Some 9/11 Remains Sent To Landfill
Problems with the handling of human remains at a Delaware military base date back at least to Sept. 11,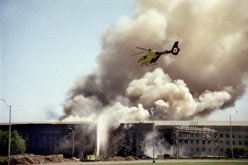 2001, when portions of bodies brought there after the terrorist attacks were cremated and deposited in a landfill, according to a Defense Department report Tuesday. Detailing previously undisclosed errors at the Dover Air Force Base mortuary, investigators found a 2002 memo that indicated portions of bodies of people killed in the Shanksville, Pa., plane crash and the Pentagon attack couldn't be identified, were cremated at a civilian crematory and then given to a biomedical waste-disposal contractor that deposited the remains in a landfill/Julian E. Barnes, Wall Street Journal. More here. (AP file photo by Heesoon Yim of a helicopter flying over Pentagon on Sept. 11, 2001)
Seriously?
---
---