Wed., Feb. 29, 2012, 9:09 a.m.
Romney, Santorum In Robocall Flap
During Josh Romney's visit to Meridian Tuesday he called out President Obama for urging Democrats to cross over and vote for anyone but Mitt Romney in Tuesday's Michigan primary. "They don't want to face my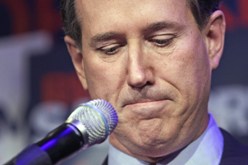 dad," Romney said to a crowd of about 100. "President Obama does not want to run against my dad, so he's encouraging everyone in Michigan -- all the Democrats -- to vote for the other guys, don't vote for Mitt. It's a good sign for us, but it's making life tough in Michigan." Romney pulled out a critical 3-point win Tuesday, after blasting Rick Santorum for doing what his son attributed to the president. The candidate called Santorum's automated phone calls to Democrats -- reminding them that Romney opposed bailing out the U.S. auto industry -- a "dirty trick" Tuesday. Santorum omitted mention of the fact that he too opposed taxpayer loans to Detroit/Dan Popkey, Idaho Statesman. More here. (AP photo of Rick Santorum after his 3-point loss to Mitt Romney in Michigan last night)
Question: Do robocalls from political candidates upset you?
---
---