Wed., Feb. 29, 2012, 8:22 a.m.
Romney Wins Michigan, Arizona
Mitt Romney is trying to capitalize on twin victories in Arizona and Michigan as the GOP nomination race expands to the 10 states that vote on Super Tuesday. Rival Rick Santorum, who narrowly lost in Michigan,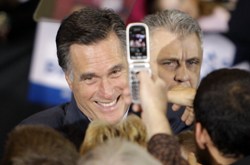 faces splitting the conservative vote with Newt Gingrich as the former House speaker counts on Southern primaries to revive his campaign. Mitt Romney speaks to supporters Tuesday night in Novi, Mich. Texas Rep. Ron Paul remains a factor as he attempts to mine delegates in caucus states like North Dakota, where his campaign team says the process plays to his strengths. Super Tuesday is March 6, just three days after Saturday's Washington state caucuses/AP. More here. (AP photo of Mitt Romney in Michigan last night)
Question: Was Kid Rock the key to putting Romney over the top in Michigan?
---
---