TUESDAY, JAN. 3, 2012, 11:04 A.M.
5 SR Sports Staffers Retire, But …
Yes, The Spokesman-Review sports staff lost five members due to early retirement on Saturday. But Sports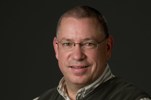 Editor Joe Palmquist (pictured) points out that most of the five will continue on as part-time help: "(John) Blanchette will average two columns a week over the course of the year and continue to write on local topics. (Vince) Grippi has agreed to take on a part-time gig as our online producer. He will have daily posts in Sportslink, giving readers a gateway to all the interesting sports news in our area. I think you will see (Dave) Trimmer's name on a lot of Then & Now stories, catching up with former area sports stars, and also covering events when we are shorthanded." You can read about the SR sports department changes here.
Reaction?
---
---