Wed., Jan. 4, 2012, 2:21 p.m.
Ed Board OKs Petersen $2M/Year Pay
Idaho's state Board of Education has voted unanimously to grant Boise State University's request to boost the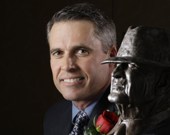 base pay for its head football coach, Chris Petersen, to $2 million. In a special meeting, the board voted to bump up Petersen's base pay to $2 million for the 2012-2013 year, up $375,000 from the current $1,175,000. Petersen has a five-year contract that includes annual increases, which would otherwise push his base pay up to $1,575,000 by Jan. 31, 2016; the board will consider a new five-year pact later. He is the state's highest-paid state employee, but the money doesn't come from state fund/Betsy Russell, Eye On Boise. More here. (AP photo/Pat Sullivan)
Question: Do you agree with this unanimous decision?
---
---