Wed., Jan. 4, 2012, 3:23 p.m.
LeFavour: Idaho's Reverse New Deal
Does anyone think this year the Idaho legislature will suddenly re-consider our current strategy of telling every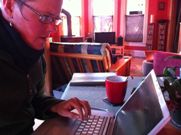 single state agency, "This year, no building anything, no hiring anyone, no replacing broken items or taking on new projects?" No. This three year austerity strategy has cost Idaho over 3000 state jobs. And somehow the Governor still seems proud of it. When America had its last great depression, rather than paying unemployment for laid off workers, government paid them to do jobs communities needed to have done. Idaho has closed parks, health department offices, scaled back mental health treatment programs, laid off school teachers, increased class sizes in schools colleges and universities and much more. Yet I'm sad to say I suspect those who loathe government will have their way with our economy again. They will continue the austerity in spite of the fact that it's hurting the very people who cry for lower taxes/Sen. Nicole LeFavour, Idaho Legislature. More here.
Question: Rather than continue to cut state jobs, should Idaho consider putting people to work by adding state jobs or short-term public jobs programs?
---
---