Thu., Jan. 5, 2012, 4:36 p.m.
Cleaning Jim Kershner's Desk
I moved in the newsroom this week to the desk formerly occupied by Jim Kershner, our own walking historian,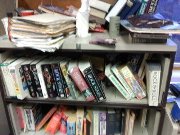 now retired from the newspaper but writing history, still, for us and others. He had cleaned out his desk pretty well but left behind about 12 files. I'm pretty sure he didn't forget or need them, because we talked about what items he would be coming to collect over the weekend and he didn't collect these. I looked through each file before pitching them all. One contained photos from an Elvis impersonator. Another had ideas for his column, dated 1992. One of his ideas: "Cars that are smarter than you." Cleaning out his files made me miss him even more and it also helped me pitch many of my own files because I realize I won't need them/Rebecca Nappi, End Notes. More here.
Question (from Becky): Anyone have tips re: how to pitch files?
---
---