Thu., Jan. 5, 2012, 12:09 p.m.
Noon: Family Grateful After Crash
On Aug. 14, a fun-filled day at Loon Lake ended in near tragedy for the Santos family. As Angelo Santos; his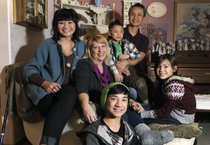 wife, Alyssa; and children Isabella, Zachary, Annalia, and Nikko, traveled south on U.S. Highway 395, a drunken driver blew through the stop sign at Crawford Road. "I saw him coming," Angelo Santos said, of the seconds before the crash. "I tried to veer right to avoid him." But the collision proved inescapable. Alyssa Santos thinks her husband's 15 years as a UPS driver mitigated the damages. "I believe if anyone else had been behind the wheel, it would have been so much worse," she said/Cindy Hval, SR. More here. (Colin Mulvany SR photo: from left, Isabella, 17; mother, Alyssa; Zachary, 14; Nikko, 7; father, Angelo; and Annalia, 9)
Also by Cindy: Art class teaches creativity with community in mind
Question: Have you ever been in a car crash with at least one member of your family?
---
---