Thu., Jan. 5, 2012, 1:17 p.m.
'Portlandia' Returns For 2nd Season
On a map of the Internet, the capital these days would be "Portlandia." The cult IFC Channel sketch show has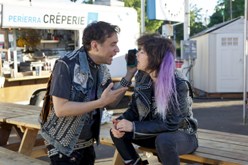 been dominating Twitter and Google searches for several days leading up to Friday night's Season Two debut, occupying the type of web chatter usually reserved for Lindsay Lohan court-dates and Charlie Sheen implosions. Not bad for a show set in a hipster's version of Portland, where tattoo ink flows freely and people are really worried if the chicken they're eating is organic and locally raised. Where it's okay to have an obsession with the nineties grunge, to sell hand-crafted light bulbs for $68 apiece, and to toss out catch-phrases like "Put a Bird on It"/New York Daily News. More here. (Scott Green AP/IFC photo: Fred Armisen and Carrie Brownstein are shown in a scene from "Portlandia")
Question: What's your favorite/least favorite thing about Portland, Ore.?
---
---