Thu., Jan. 5, 2012, 8:20 a.m.
Spokane Area Couple Had 39 Cats
Animal control officers wore white hazardous material suits as they worked to remove potentially dozens of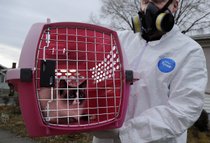 cats from a Spokane home Wednesday. The couple who live at the residence, located on the 4000 block of North Addison Street, told SpokAnimal C.A.R.E. they have 39 cats. Officers had removed 20 cats as of Wednesday evening. SpokAnimal officials said the unidentified couple who live at the residence was cooperating and no charges have been filed, so they released few details Wednesday. Spokane County records show John K. Billington and Pamela M. Billington own the property, but it is unknown whether they are the two people currently living in the squalid home, which smelled strongly of urine/Chelsea Bannach, SR. More here. (Christopher Anderson's SR photo: SpokAnimal Animal Control Officer Chad Himelspach holds one of the many cats that were removed from a home on Wednesday)
Question: How many cats would a neighbor have to have before you consider it a hoard?
---
---