Connell Cage Roughness Goes Viral
A small Washington town of about 4,200 people now has the country's attention after a video, shot at a recent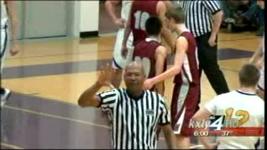 high school basketball game, went viral and showed up on Yahoo.com's homepage.The video, shot by an opposing team's parent, shows Connell payers committing what could be considered flagrant fouls. Yahoo's article said the video has turned Cole Vanderbilt into "one of the most hated players in Washington."It shows Vanderbilt smacking players in the face as he tries to get the ball away from them. At one point, he clotheslines a player, sending him flying into the air and landing on his back/Colleen O'Brien, KXLY. More here.
DFO: I once broke down in Connell, Wash., a small town north of the Tri-Cities. Wouldn't want to be from there.
Question: Who's to blame for the deplorable behavior of the Connell High basketball team?
---
---