Mon., Jan. 9, 2012, 11 a.m.
Health Issues Force Snakepit To Shut
The future of the historic Enaville Resort (also known as the Snakepit) is uncertain now that owners Joe and Mary Peak are both battling cancer. Visitors to the famed eatery/tavern found this message on a whiteboard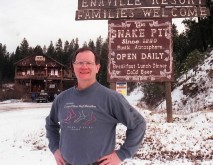 under the word "CLOSED" printed in capital letters Friday: "Due to ongoing medical issues we will be closed for some projects. It has been our sincere pleasure to serve you since 1978 - 2 days closed each year! Stay in touch ... Rose Mary & Joe need your support." In a Coeur d'Alene Press weekend story, Peak, who has operated the Enaville Resort with his wife since 1978, said he had a stem cell transplant in his battle with cancer and his wife is in Hospice care. He said quietly: "I don't know what we're going to do." The Shoshone News-Press is asking readers for testimonials for a special edition to be devoted to the Peaks. You can read a 1997 SR story by Bekka Rauve about them here. And see a 2007 video by Annie Bishop here.
Question: When did you last visit the Snakepit (Enaville Resort)?
---
---