Tue., Jan. 10, 2012, 9:14 a.m.
Mansfield: Does Ron Paul Own Idaho?
On his blog, Dennis Mansfield points to the who's who of Idaho politics who support GOP presidential candidate Mitt Romney -- and then declares something unusual happened Friday -- an anti-establishment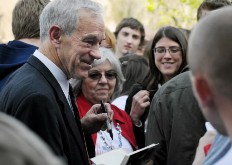 candidate won the GOP straw poll. Ron Paul. Quoth Dennis: "Some might argue that the Straw Poll was merely a 'fundraiser' for the state GOP (paying $30 to vote in it could give that impression) -- but it was a POLL that Ron Paul will gladly celebrate nationally...and Romney will attempt to deflect intentionally. But, a win over Santorum by 8 votes in Iowa... and a loss to Ron Paul in Idaho? If I were Romney's staff, I'd wonder why this 'fundraiser'/straw poll was not invested in by Mitt supporters. After all, they HAVE the money to spend ... So, until March's Super Tuesday the nation will believe that Idaho is owned by Ron Paul." More here. (In this April 2008 file IPT/AP file photo by Mike Vogt, Ron Paul prepares to sign his book, "The Revolution," during a visit to Caldwell)
Question: Does Ron Paul "own" Idaho?
---
---