Tue., Jan. 10, 2012, 1:14 p.m.
Slice: Making Molehills Into Mountains
As you know, large portions of the United States are pancake flat. In those parts of America, you can stand in a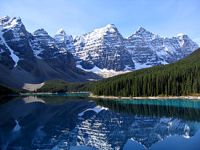 field and see a storm coming from three counties over. In other vast swaths of U.S. countryside, the highest elevations are found atop low, rolling hills. Sometimes people who live in such places wind up moving to the Spokane area. Upon surveying their new surroundings, these individuals determine that we have mountains here. And that's where it gets complicated. Yes, it's certainly true that there are mountains hereabouts. Quite a few, actually. They just aren't particularly tall or breathtakingly jagged, as is the case elsewhere in the Northwest/Paul Turner, The Slice. More here. (Wikipedia: Rocky Mountains in Banff National Park)
Question: Have you ever lived anywhere where there are real mountains?
---
---