Wed., Jan. 11, 2012, 2:17 p.m.
News Quiz: Zag Ticket Odds 100-to-1
Just got heads up from handlers of Jim Camden's weekly SR News Quiz that the odds of winning tickets to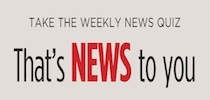 Gonzaga's home game against San Francisco on Thursday, Jan. 19, are about 100-to-1. About 30 Merry Hucksters have entered the contest so far. All entries in the weekly News Quiz are eligible for the drawing for the Gonzaga tickets. A top prize of lunch for two at Davenport's Palm Court Grill will be awarded for the best score. The first question is pretty easy: "The Inland Northwest experienced a drier than expected December as a result of (five choices given)." You can take Jim's News Quiz by clicking here. Or you can click on the News Quiz button in the righthand rail.
---
---