Wed., Jan. 11, 2012, 1:15 p.m.
Petersen Laps Otter In State Pay Hike
Feel like you're working harder and harder, but falling farther behind? Gov. Otter shares your pain. Despite a 4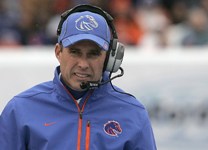 percent pay raise, the gap between Otter's salary and that of the highest paid state employee just keeps growing. The governor's fiscal 2012 salary is $115,348, up from $110,734 last year, according to the annual "Rainbow Report" issued by the state controller's office. Boise State University head football coach Chris Peterson was once again the highest-paid state employee, with a $1.17 million annual salary – up 28 percent or $255,000 from the year before. (The report, which was released Friday, didn't include the $375,000 raise the State Board of Education approved for Peterson last week. Nor did it mention that Peterson's salary is paid from revenue generated by the Bronco football program, not state tax dollars)/Lewiston Tribune. More here.
Question: What size of raise did you get in last 12 months?

---
---