Thu., Jan. 12, 2012, 8:29 a.m.
Coaches w/St. Maries Ties Leave BSU
Boise State defensive backs coach Marcel Yates (Texas A&M) and special teams coach Jeff Choate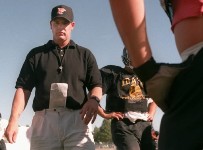 (Washington State) will leave the Broncos for jobs in Bowl Championship Series conferences, a source told the Idaho Statesman. Their exact titles are unknown, but Yates is expected to coach defensive backs for new Aggies coach Kevin Sumlin in the Southeastern Conference and Choate is expected to coach a defensive position for new Cougars coach Mike Leach in the Pac-12. Washington State already has hired special teams coach Eric Russell, who like Choate attended St. Maries High in North Idaho. The two departures will cost the Broncos experience and recruiting ties/Chadd Cripe, Idaho Statesman. More here. (SR file photo: Choate as the Post Falls Trojans coach in the 1990s)
Question: Will Boise State be able to continue its Top 10 performances of the past three years, with the exodus of its offensive coordinator and other assistant football coaches?
---
---