Thu., Jan. 12, 2012, 9:15 a.m.
Lucky Friday Shutdown Costs Jobs
Federal regulators' decision to shut down the Lucky Friday Mine's main shaft was greeted with confusion and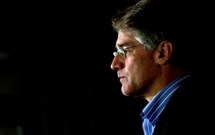 concern Wednesday in Idaho's Silver Valley. Officials at Hecla Mining Co., which operates the underground silver mine, said it will take a year to clean the shaft to regulators' specifications. The mine will be closed during that time, resulting in the layoffs of more than 200 employees and contractors. Federal inspectors closed the shaft last Friday, citing a buildup of sand and cement on the shaft's walls. The deposits could break off and "potentially fall thousands of feet down the shaft and cause serious damage," said Amy Louviere, a spokeswoman for the Mine Safety and Health Administration, or MSHA/Becky Kramer, SR. More here. (Kathy Plonka SR photo: Hecla Mining CEO Phil Baker)
Question: Is it better to be safe than sorry? Or is the Mine Safety & Health Administration over-reacting to Lucky Friday Mine accidents in 2011?
---
---