Thu., Jan. 12, 2012, 1 p.m.
Ruling: Keep Judges Out Of Churches
Religious workers can't sue for job discrimination, the Supreme Court ruled Wednesday, saying for the first time that churches — not courts — are the best judges of whether clergy and other religious employees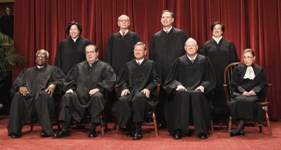 should be fired or hired. But the high court tempered its decision bolstering the constitutional separation of church and state by refusing to give a detailed description of what constitutes a religious employee, which left an untold number of workers at churches, synagogues and other religious organizations still in limbo over whether government antidiscrimination laws protect them in job bias disputes. It was, nevertheless, the first time the high court has acknowledged the existence of a so-called "ministerial exception" to anti-discrimination laws — a doctrine developed in lower court rulings/Associated Press. More here. (AP file photo)
Question: Do you agree/disagree with ruling?
---
---