Fri., Jan. 13, 2012, 11:29 a.m.
Hoffman's Happy With Solons, So Far
With talk of tax cuts — and less talk of a state-run health insurance exchange — Wayne Hoffman (pictured) is liking what he's hearing. Hoffman, the executive director of the Idaho Freedom Foundation, a limited-government lobbying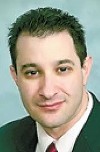 group, used his weekly column to give high marks to the start of the 2012 legislative session. And Hoffman didn't gloat about Gov. Butch Otter's $300 million gaffe on the health exchange, as the governor backed away from his claim that the feds would slash Idaho Medicaid payments if the state failed to create an exchange. Said Hoffman, "Otter acknowledged he misspoke." I think Hoffman makes a good point on another issue: He suggests legislators move back the two-week candidate filing period — the current deadline is March 9 — and the May 15 primary election. He sees it as a transparency issue, since it would allow voters more time to review voting records/Kevin Richert, Idaho Statesman. More here.
Question: Are you happy with what you're hearing at the beginning of the 2012 Idaho Legislature?
---
---