Fri., Jan. 13, 2012, 8:34 a.m.
Press: Open Curtain On Controversy
Item: Tickets gone for Lake City Playhouse production of "Rent" for opening weekend/Bill Buley, Press
Opinion: Bless the protesters and pass the popcorn. Tonight's opening of "Rent" at Lake City Playhouse will feature a cast of passionate characters. Most of them will be on stage, but a few will be standing outside, perhaps with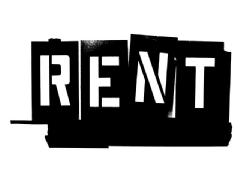 signs condemning the play, the performers and maybe the audience, too. This is America, thank goodness. In this land of the free and home of the brave -- those brave enough to perform a controversial, critically acclaimed work of art and those brave enough to make a symbolic statement in a small sea of theater-goers who likely disagree with them - there's plenty of room for dissenting opinions, so long as everybody obeys the law. Just as it is the right of Playhouse decision-makers to put on this sold-out production, so, too, is it the right of critics to say it does not meet their moral standards. The gray area is this: When is protest a legitimate disagreement, and when does it constitute outright bigotry?/Coeur d'Alene Press Editorial Board. More here.
Question: Do you consider the protest against the Lake City Playhouse production of rent to be legitimate disagreement or outright bigotry?
---
---