Sat., Jan. 14, 2012, 12:08 a.m.
Christie: Disagree W/Counterprotest
Re: Counter-demonstrator Dolezal describes encounter with racists/HucksOnline
Christie Wood: People might think because (former Human Rights Education Institute educator) chose to counter protest the Aryans that the Task Force supports it. We do not. We will never stand across a street and yell back at Aryans or hold signs. Tony Stewart says it best " If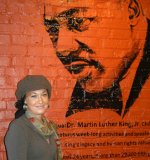 anyone can show me a time in history when Dr. King attended a Klan protest then perhaps we will change our tactics, but you will not find that Dr. King ever did that." Instead of engaging with the Aryans our Board members and HREI hosted the 27th year of the Children's show at NIC. This year is was a wonderful presentation of "Living Voices". CDA & Post Falls School Districts brought the children in and they learned about human rights atrocities in our history. They were also sent away with a message of hope, tolerance, and support of human rights for all. As they left the college by bus their route went right past Winkler and his crew. Sadly, the little kids saw for themselves a current example of hate. (Photo from "Images of Rachel Dolezal")
Question: Which way would you prefer to show your distain for KKK activity in Coeur d'Alene -- counterprotest, passive resistance, or both?
---
---