Sat., Jan. 14, 2012, 12:47 p.m.
Denver Tebows Vs. Patriots, World Today
Win or lose today, the nation will focus its eyes on the Denver-New England NFL game and wonder out loud if it's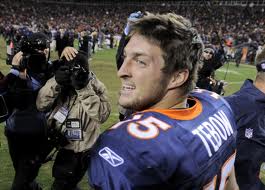 appropriate for sports heroes like Tim Tebow to "force" his faith on the rest of us who are watching his team on TV. Whether he wins or loses tonight, Tebow will be interviewed. And he'll utter his well-known sentence, " I'd like to thank my Lord and Savior, Jesus Christ" - which has caused not only an awkwardness but an antipathy/anger in many circles - and it will be broadcast across the world, once more. And people will be angry and EVEN portray Tebow as being an angry man and SNL will mock him and so on and so on...even to the point that Playboy Playmates mock Tebow's prayer stance. What they don't realize, I'd bet, is that every knee will eventually bow. (Romans 10:9-10). They do not like this "new thing" of overt and public Christian evangelism/Dennis Mansfield. More here.
Question: Would you want your daughter to marry a guy like Tim Tebow?
---
---