Tue., Jan. 17, 2012, 4:23 p.m.
Resort Undergoes Interior Remodel
If you've been to the Coeur d' Alene Resort in last couple of weeks, you'll notice one thing. Everything is torn up and out of place as the Hagadone Hospitiality Company has started a full interior remodel of the property,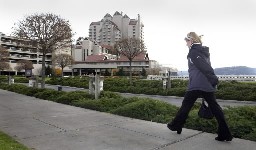 which is something that was much needed in the popular resort.The Hagadone owned Coeur d' Alene Resort has embarked on a 2.5 million dollar remodel project. The project has most of the lobby and store area near the main entrance off of Front Ave. and Second St. closed off to the public. Guests now use employee corridors, and it forces departments such as Human Resources to temporarily be moved into the vacant spaces in The Resort Plaza Shops across Front Ave. from the main resort/Matthew Behringer, Inland Northwest Business Watch. More here. (SR file photo: Jesse Tinsley)
Question: Who has visited Coeur d'Alene resort during remodel? Thoughts?
---
---