WEDNESDAY, JAN. 18, 2012, 8:18 A.M.
2nd Ellington Trial Begins Today
Trial is scheduled to begin this week for a North Idaho man imprisoned for four years on a murder conviction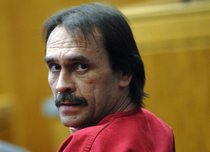 that was overturned because the Idaho Supreme Court ruled a state trooper lied on the witness stand. Jonathan Wade Ellington (pictured) has been free since early November on a $50,000 property-backed bond after returning to Kootenai County from a prison near Boise. Ninety-four Kootenai County residents are to report to the courthouse this morning for jury selection. Opening statements could occur as early as Thursday morning. But first, Judge John Luster will decide whether to dismiss the case against Ellington because of a last-minute evidence issue defense lawyers say infringes on his right to a fair trial/Meghann M. Cuniff, SR. More here.
Question: How do you think this second trial will play out?
---
---